Today we continue on in the theme of funny/scary Christmas decorations, but this post takes us inside the homes of those funny/scary people obsessed with Christmas decorations.  Warning:  You may want to keep small children from viewing these photos as they are quite disturbing.  Unless you want your child to be one of those people.  Then, by all means, ruin them.  RUIN THEM.  Ahem, on with the show.
Yay, let's take a dump in Santa Claus's face!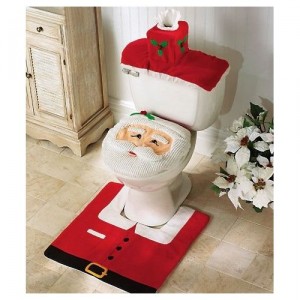 This is what they use in Appalachia instead of a spruce tree:
Confused about which holiday tradition to follow?  Throw a tree in your house and slap this puppy on it!
This is 100% FOR SALE–if you want to believe Santa Claus was present for the birth of Jesus: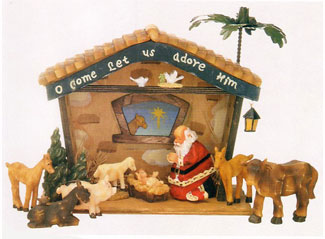 If your entire life revolves around December 25th it's time to get a new hobby.  Seriously:
You would be laughing except you know this person.  Maybe not this exact person, but someone who loves Christmas decorations too freaking much.  Perhaps even Biblically:
Well, I think I might get arrested if I show you any more deranged Christmas decoration photos.  Nonetheless, we can laugh at the creepiness.  Can't we?  Oh boy.  Stay tuned and take it sleazy.