Hippity hoppity, Easter's on its way. Sit back, gorge on some Easter candy, and throw it back up again from laughing too hard. After all, Easter is the Funniest Holiday EVER.
No one was hurt in the making of this photograph. Except the baby.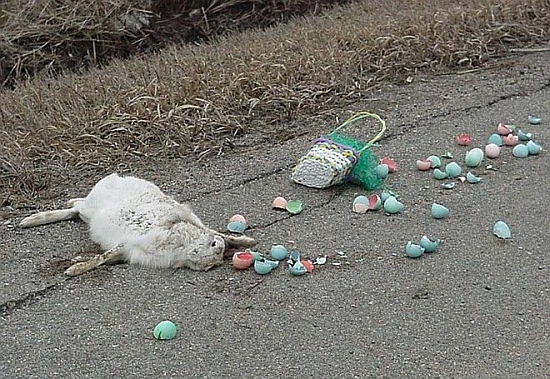 Thankfully, this happened several years ago. A suitable replacement has been found. Hopefully that drunk driver is still behind bars. (I swear occifer, I didn't hit that wabbit.)
Easter is Al Franken's favorite holiday, doncha know!
Hey, look at that! Easter is Hitler's favorite holiday, too! Come to think of it, have you ever seen Al Franken and Adolf Hitler in the same room? Put that in your pipe and smoke it.
For He so loved the world that he gave his only begotten Peep to save us from our sins.
Yeah, lame, but still funny.
Hoppy Easter, and stuff. (I celebrate Passover.) Stay tuned and take it sleazy.